When You are Cryin' You Should be Buyin'
Michael A. Berry, Ph.D.
mberry@mikeberry.biz
http://www.mikeberry.biz/
December 18, 2007
Ivory Energy released its 2008 development and drilling plan yesterday. The stock has been under pressure in spite of steadily increasing production. I visited the Silverdale site at Lloydminster two weeks ago. The shares are very cheap. Last month the company averaged 850 barrels of heavy oil production per day. The company is netting back between $20 and $30 per barrel. I expect that to improve in the next year as flow lining, recompletions and infill drilling improves efficiencies and production. Ivory should reach 1,500 to 2,500 barrels of daily production by 2008. It is a low risk heavy oil D.I. from Canada's capital of heavy oil – Lloydminster.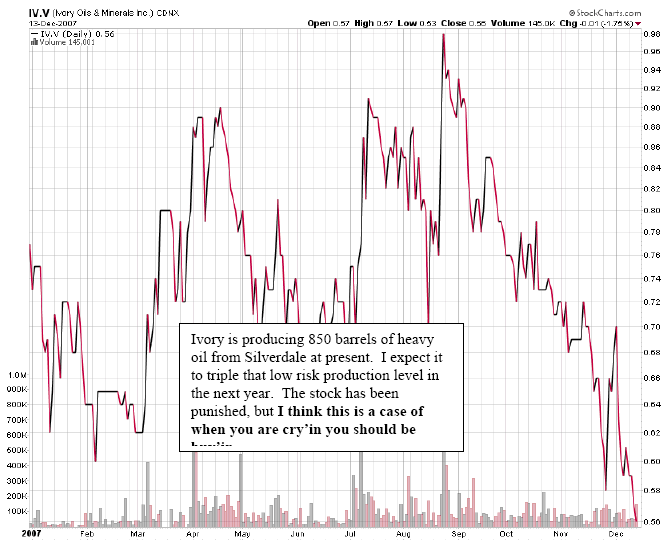 The company's stated milestones in the 2008 timeframe are listed below:
December 13, 2007. Ivory Energy Inc. (IV: TSX.V) announces an update to activities on its Silverdale oil properties in Saskatchewan.
Drill Program: Ivory will commence its 2008 Silverdale drilling program during January 2008. Ivory has identified 36 infill and step-out drilling locations that will be part of the 2008 drill program.
3-D Seismic Survey: Data acquisition of the 3-D seismic survey over a portion of Ivory's lands at Silverdale was completed during December 2007. Final processing and interpretation is scheduled to be completed during January 2008.
Flow Line & Water Flood: Ivory will begin flow lining a number of oil wells recently placed on production during early January 2008. This flow lining will proceed in conjunction with water flooding and secondary recovery of this portion of the Silverdale oil field.
Ivory Energy Inc. is a heavy oil producer in Saskatchewan that is rapidly increasing production, cash flow and reserves through low risk re-completions, workovers, infill drilling, and utilizing enhanced oil recovery methods. The Silverdale oil field, Ivory's flagship property, comprises compact geology, stacked oil reservoir sands, with discovered petroleum resources initially in place of 131 million barrels of oil1.of which Ivory's net interest is estimated at 41%.
The material herein is for informational purposes only and is not intended to and does not constitute the rendering of investment advice or the solicitation of an offer to buy securities. The foregoing discussion contains forward-looking statements within the meaning of the Private Securities Litigation Reform Act of 1995 (The Act). In particular when used in the preceding discussion the words "plan," confident that, believe, scheduled, expect, or intend to, and similar conditional expressions are intended to identify forward-looking statements subject to the safe harbor created by the ACT. Such statements are subject to certain risks and uncertainties and actual results could differ materially from those expressed in any of the forward looking statements. Such risks and uncertainties include, but are not limited to future events and financial performance of the company which are inherently uncertain and actual events and / or results may differ materially. In addition Dr. Berry may review investments that are not registered in the U.S. Dr. Berry has been awarded 10,000 stock options exercisable at $7.50 from Senesco Technologies, 200,000 options from Aura Silver (strike C$.30) and a monthly retainer($3,000), 150,000 options which strike at $2.80 from Birch Mountain and 300,000 options from Ivory Energy and a monthly retainer fee ($6000) for Corporate Finance consulting services. He has been awarded 100,000 options of Derek Oil and Gas exercisable at C$.47. He is a consultant to Freegold Ventures, for which he received 100,000 stock options exercisable at $.40, Piedmont Mining (250,000 options), Valcent Products (300,000 options), Global Green Solutions, MegaWest Energy and War Eagle Mining. He owns shares and/or options in Goldcorp, Senesco Technologies, Birch Mountain Resources, DataMeg, Immtech International, Horseshoe Gold, Midway Gold, Derek Oil and Gas, Terraco Gold, Stealth Ventures, Kenrich-Eskay Gold, US Silver, Galway Resources, Neuralstem, Oil Sands Quest, Enhanced Oil Resources, Piedmont Mining, MegaWest Energy, Valcent Products, CGX Energy, MacMillan Gold and Quaterra Resources. He has been awarded 250,000 options on Terraco Gold exercisable at C$.50 for 5 years, for services as a financial advisor. He has also been retained as an advisor by Dejour Enterprises (200,000 options plus retainer of $2,500 per month), Grande Portage (210,000 options and $5,000 per month retainer and Galway Resources (200,000 options and $5,000 per month). In his role as advisor he has been awarded 75,000 options from Polymet which strike at C$2.76. We cannot attest to nor certify the correctness of any information in this note. Please consult your financial advisor and perform your own due diligence before considering any companies mentioned in this informational bulletin.
Michael A. Berry, Ph.D.
mberry@mikeberry.biz
December 18, 2007
http://www.mikeberry.biz/